Have you ever wanted to reminisce your Twitter memories? A
ll My Tweets at allmytweets.net is an application that really helps you do that. Do you want to remember the interactions you have shared, your interactions and replies and retweets?
But, you don't know how to work with that.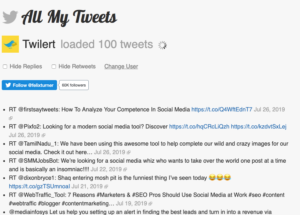 You think that it will cause much your time and energy, so decided not to. Do not limit yourself; you can do the job easily!
Fortunately, AllMyTweets have been established to eliminate the worries of Twitter users like you.
AllMyTweets (allmytweets.net) Review and Overview
AllMyTweets is an online application that enables you to search and view your old tweets without any inconveniences. As a result, You no longer need to worry in the idea of scrolling manually to find the old tweets you want to.
Admit it. People nowadays prefer doing things that won't consume their time and energy. That's why All My Tweets is here to help.
Benefits of AllMyTweets
Efficiency
The first benefit of AllMyTweets is efficiency. You can get a fully comprehensive archive of your old tweets and even someone else's account.
Complete Report
From your given range of time, you can get a complete report of your or someone else's tweets.
This comprehensive report is sorted in accordance with the types you want.
Sorted Tweets
Alternatively, You can get sorted old tweets according to search type you want. This way, you won't experience confusion provided by unsorted tweets.
How to Use AllMyTweets
In your web browser, simply open the website of AllMyTweets, which is www.allmytweets.net and then log in to your Twitter account.
You don't need to worry about the safety of your account since AllMyTweets is an authorized account that prioritizes the security of your account.
As you log in, the app will ask your authorization.
Once you allow it, it will read the tweets from your timeline and will be able to see who you follow.
AllMyTweets won't meddle in your account.
Subsequently, It won't follow new people, give an unnecessary update to your profile, post unwanted tweets for you, and won't access your direct messages.
The application won't also see your email address and your Twitter password.
Click "View Tweets," and the process of All My Tweets will begin.
If you have fewer tweets, you have to wait for a few seconds and will give you an instant report. If you have more than a thousand tweets, don't worry, the process is still quick, and you don't have to wait longer.
You can now download the report for future purposes.

Features of All My Tweets Application
Use All My Tweets for Viewing Old Tweets
With AllMyTweets, you can view your tweets in a fast and easy way. You can now reminisce the memories you have with your old tweets in your Twitter account.
Searching Old Tweets with AllMyTweets
You can search the tweets you want with AllMyTweets. You have the power over controls and be able to see your searched old tweets.
Archiving Old Tweets via All My Tweets
Once you have searched your tweets in your All My Tweets account or other users, you can now archive these tweets.
If you are planning to delete all your tweets, you can still have a reference to your archived old tweets.
If you are searching for tweets these past few years, this online application will also enable you to find it with the archive.
However, you can't query (search) your old tweets, nor can you specify the date like you are able to with Twilert's Old Tweet Tool
Anything you can do with All My Tweets, you can do with Twilert's old tweet tool.
Our tool is free for basic usage forever, so enjoy the benefits of searching your historic twitter posts with no limitation.
More Social Media Monitoring Insights
We Help Digital Marketers Track Twitter to
discover customers
without wasting time or money.
Start Right Now
"Advanced Search on Twitter but on Steroids."- Neil Patel 

Founder of Crazy Egg, Hello Bar, and KISSmetrics