We get it.
You're likely one of a few types of Twitter users that have arrived at this page after searching Google.
You just realized you probably have older Twitter posts from years ago that may be "objectionable" to your current employer, or your audience
You've taken on a new client and are managing their account. You've got to review their history so you can be sure there are no stock-tanking gaffes from a cavalier social media intern posting on their account 8 years ago.
You want to dig up dirt on your competitors.
You want to dig up dirt on a potential client, and show them an example of the type of helpful service you can provide
Note: If you don't want to read further, here's a quick link to the tool that will solve your problem: Use Twilert's Free Old Tweet Tool to search old tweets for your account
Twitter is a very enjoyable social media platform where you can share or express your thoughts. If you are a long time Twitter user, you may want to look back for your twitter memories.
You no longer need to scroll for a long period to look for how to find old tweets.
In Twitter, there are only 3200 tweets displayed in your timeline, and you can find your old tweets even your first tweet by digging back into your archives.
This article will help you gain knowledge and tips on how to find old tweets without consuming much of your time.
Regardless of what user are you, iPhone or Android user, you'll be able to know the things you need to find your old tweets efficiently.
Example: How to Find Old Tweets from 2018
We built a tool to help users search their old tweets by year. Here's a 5 Step (plus extra) guide to show you the quickest way.
Log into Twilert's Free Old Tweet Tool –>> http://app.twilert.com/old_tweets  <<–
Select your Start Date as Jan 1, 2018.
Select your End Date as Dec 31,2018
Click "Filter" and wait until the results load
Enjoy reviewing all of your tweets from 2018
(coming soon) Delete all your tweets in a time range
Here's a handy animated gif showing you how to find all your tweets from 2018 (or any year) using the free search function of our Old Tweet Tool: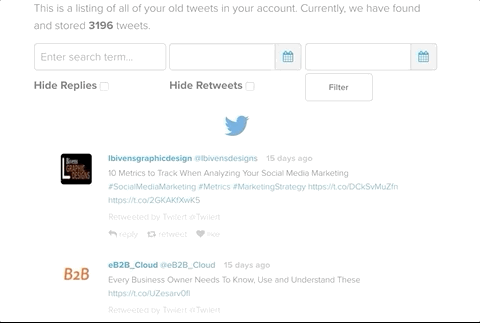 Update : How to Find Old Tweets 2018
How to Find Old Tweets Using the Twitter App on Android and iOS
How to Find Old Tweets on Android
Search for old tweets on android with this 6 step guide:
Open the Android Twitter app and log-in your account.
Click the search tab in the lower section of the page and type "from: [username]" to find your old tweets.
If you are looking for the old tweets of a certain user, type "from:" and then the user's username.
Note: You no longer need to use "@" in searching.
Filter the search using the following date range, hashtag, keyword, and user mentions.

By Date Range: Follow this format: since: yyyy-mm-dd until yyyy-mm-dd
By Keyword: add the word you are searching for after their username in the search icon.
By Hashtag: Type "#" together with the hashtag you are searching for.
By User mentions: Type "@" together with the username a specific user was mentioning.

Click the tabs shown at the top and filter tweet search results by clicking the tabs at the top of the screen. These tabs are Top, Latest, People, Photos, Video, News, and Periscope.
Choose the criteria of the old tweets you are searching for.
This method should have given you a solid base of knowledge in how to search for old tweets on android. If you need more ways to find old twitter posts, check out the iphone old tweet tutorial below or review some of our other great old tweet content.
How to Find Old Tweets on iPhone
Search for old tweets on iPhone devices with the following 10-step tutorial:
Open  the iPhone Twitter app and go to the user's profile by typing their username or tweet's photo.
Look for the date when they have joined Twitter and memorize it.
Open your Safari and go to https://www.twitter.com/search-advanced.
Log-in to your account and then, to show the toolbar, you must swipe down on the page.
Near the toolbar, click the "Share" icon.
Click "tap Request Site" after swiping left across the lowest row of tabs.
Enter the username of the user into the "From these accounts" icon. Enter your username to find for your won old tweets.
Scroll down to the "Dates" tab and type the date range for the tweets you want to look back.

Click the first blank beside the field of "From this date" to open the calendar. Click the arrow at the top-left corner of the calendar until you enter the month and year the user has joined. Right after, tap done.
Click the second blank that can be found to the right of "to." Click the last date you want to dig in for old tweets and click "Done" right after.

You can refine the search results if you want.
Click the "Search" button. You can tap one of the options in the "Search" filters" field that can be found on the top-left corner of the screen if you want to filter the search results.
Find Tweets and Find Old Tweets on iPhone & Android
This should have given you a quick overview on how to search old tweets on iphone devices. You've now got a great understand of how to look at old tweets on iphone cellphones – what you do with this new knowledge is up to you!
You have so many options to use the default search mechanisms for researching and analyzing historical tweet data. It is important that you understand how manually searching twitter can be a waste of time when you could be utilizing search, monitoring, and alerting tools like Twilert.
More Social Media Monitoring Insights
We Help Digital Marketers Track Twitter to
discover customers
without wasting time or money.
Start Right Now
"Advanced Search on Twitter but on Steroids."- Neil Patel 

Founder of Crazy Egg, Hello Bar, and KISSmetrics