Hear What Twilert Users Have To Say
Learn how to use social media monitoring tools. See how others are getting results from Twilert's services. Videos, tutorials, interviews, and more.
"I would give Twilert a 9/10 rating"
Dhaval P, Mortgage Banker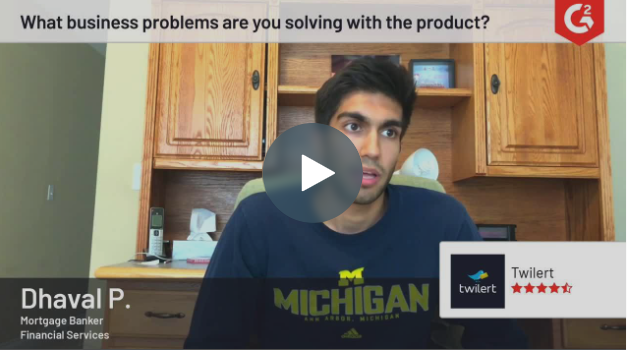 "If you're considering Twilert i think that its definitely an app that your company would benefit from using. I say that because it really gives you a real time look into what other users and product users for your company, how they feel about your app and your service."
---
"Twilert has proved to be a great service for us. Thanks to the alerts, we are able to stay up to date on all of the latest news while also focusing on the needs of our community."
Ryan Gallant
Coordinator, Communication & Engagement
Alzheimer Society of Calgary
---
" .. I was able to send an alert to some of colleagues in the Executive Protection world…my alert actually came to them first"
"I work in executive protection and have been using Twilert for approx. 4 months. I use your service primarily for on the ground real time intel. I have a limited budget and find your service to be a reasonable alternative to the high dollar (HD) services (Data Miner, NC4). The High Dollar services use similar API's only they employ the use of analyst to sort out the pertinent data.

Reviewing the data, myself is time consuming but has given me great results. In a couple cases I was able to send an alert to some of colleagues, in the Executive Protection world, who use the High Dollar Services and my alert actually came to them first. "
– Greg B 
---
"It's just a simple, straightforward tool that does precisely what I want and need."
"I have several keyword or keyword combinations set up so that Twilert sends me a daily alert of matching tweets. I choose mentions of my name, my company name and a few generic terms for my industry. That way, I don't have to remember to go searching manually once a day for each of these."
– Howard L  
---
---
"Being able to find new business leads via Twitter (and Twilert) has enhanced our engagement with prospective customers and has allowed us to keep a strong customer service reputation on Twitter."
Craig Follett, Universe.com Co-founder & CEO
Thanks for making an easy, useful tool! Yeah it was pretty helpful when we hit front page of Hackernews.
Paul Fawkesley, Co-Founder FluidKeys
"I would highly recommend Twilert. It does the work that most of us don't have the time to do in gathering what is being said about our institution all in one place. It is also a great way to engage and communicate, to show your followers you are indeed listening."
Robb W. King, Kent State University at Trumbull
I love Twilert, been with you since free beta days…. I'd rather remain an anonymous testimonial. I use your service to make people think I'm on Twitter all the time, and don't want my competitors to know about my secret sauce, so to speak….
-HealthCare Professional
"Twilert saves me a LOT of time by sending me an email every day of potential clients I can contact to offer my products and services to. It truly is an invaluable tool! They are very responsive to questions and suggestions too."
Iain Meddicks, Crazy Pellas
"I find the Geolocation filter in Twilert very useful. My business and that of our members is very much centred around Gloucestershire so it's great to be able to filter by such a specific location."
Jonathan Pollinger, Social Media Consultant, Intranet Future
---
"Thanks to Twilert we are more aware of what people are saying about our new product Oriboo and our company. It is a great product!"
KarlPetterÅkesson, MovintoFun AB
"The Twilert system and team have been great! The Twilert system has been a great asset to me and means I can easily identify competition and users that are in need of our services."
David Roberts, RackSRV
---
---
How to exclude links from Twilert Alert results
A customer has come to us with a great question. Here's what they're trying to do:
"Wordpress" AND ("error" OR "help" OR "etc")
Can Twilert handle this? Also, I would LOVE to be able to not include posts with links.
Yes, we can. Here's how ->
Youtuber Larry Snow Reviews and shows you how to use Twilert.
"Twilert is a Twitter monitoring tool which sends you realtime alerts when someone mentions your brand names, keywords or hashtags on Twitter." - Larry Snow